The weather's closing in, the morning commute is getting darker and darker and it's the last weekend in October. This can only mean one thing: It's OMM time! 3000 or so hardy souls will be braving trying conditions. And once they've worked their way through the M6/M5/M4 and back-road traffic to get to Trecastle in the Brecon Beacon's they'll have a Mountain Marathon to deal with!
I'm feeling quite smug this year, as I'll be in a nice warm bed
on Saturday
night. However, needless to say last night a part of me was wishing I was weighing out every last wine-gum, cutting strips off bubble wrap and preparing myself to spoon someone like Andy Blackett. As such, the closest I'll get to this year's OMM is my seemingly now annual, entirely educated stab-in-the-dark preview of what may, or may not, go down this weekend.
I don't know much about the Brecon Beacons. In fact all I really know is that there's a hill there called Fan y Big. I think that's all I need to know really. However, steep, exposed and runnable all pop to mind when you type 'Brecon Beacons' into google image search.
The Elite: Contenders.
This year there's a fairly continental look to the Elite start list. Insomuch as there's a smattering of names you may not recognise on there. In other words – foreign orienteers. And some bloody good ones at that. So, in no particular order, here's my pick of the podium contenders from those on the start-list.
Tim Higginbotham/Chris Near
This North Wales pair from Team Haglofs-Silva (I think that's correct...) of adventure racing fell runners are always there or thereabouts, having just lost out on the win in Perthshire 2011- you could say they were so Near and yet so far! Hoho... Once again with an early start time, they will be the expected clubhouse leaders.
Ben Abdelnoor/Oli Johnson
The Team Inov8 pairing have the fell running and orienteering pedigree to do well this weekend. With his previous OMM partner Rob Baker now wearing a corked hat in Australia, multiple British Orienteering champion Oli, fresh from smashing the Nav leg at last weekend's FRA relays, teams up with Wasdale and Lakeland 50 winner 'The Noor'. Two strong mountain men, one of them an excellent navigator, all the ingredients are there. Now they just need the luck that has deserted Oli on his last few OMM attempts.
Sander Vaher/Timo Sild
I doubt this Estonian pair are well known to many people outside of orienteering, but they are both elite athletes, still competing at the top of the sport. Sander, resident in Swansea for the last couple of years, is a former World Students champion who performs well on the British scene, whilst Timo has had some great results recently, including 2nd in the recent Finnish Long Distance championships behind only King of the Forest Thierry Georgiou. It will be interesting to see how the Boys from the Baltic (highest elevation:
3 Suur Munamagi, 318m) get on!
Alan Cherry - Famous in East Anglia
Ed Catmur/Alan 'Anal' Cherry
A-class winners on Dartmoor in 2010, both are good orienteers and runners. Ed has good recent experience of ultra distance racing so may find this too short! Meanwhile Bergen-resident Alan has been testing himself on the steepest hills and roughest forests of Norway over the last couple of months. Both have good experience of the OMM.
Steve Birkenshaw/Kim Collison
'Veteran Mountain Runner' (Berghaus's words, not mine), 7 times OMM Elite champion and current Dragon's Back champion,
Steve Birkenshaw
this year teams up with Fell Runner and adventure racer Kim Collison. A strong pairing with a lot of experience of long days on the hills when the going gets tough.
Nick Barrable/Gustav Bergman
Former GB Squad Orienteer (and CompassSport editor) Nick Barrable, 3rd on Elite last year, teams up with Swedish Orienteering Superstar and young-enough-to-be-his-son Gustav Bergmann, Bronze medallist in the middle distance/Silver in the Relay at this year's World Orienteering Championships, and a former 2xGold medallist at Junior World Champs level. Both are members of the same Swedish Orienteering club (OK Ravinen Nacka), hence the partnership. Needless to say Gustav's super fit and always immaculately coiffed, but how will he cope in a small tent overnight?
Duncan Archer/Jim Mann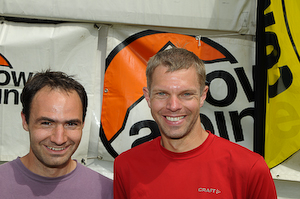 Duncan and Jim, with a cheesy Grin
With his regular partner Shane Ohly missing due to illness/injury, Duncan teams up with regular LAMM partner (they won Elite LAMM in 2012, so I suppose they're still reigning champions as there wasn't one this year!) Jim Mann. Watch out for Jim trying to flog Alpaca socks (that's socks made from Alpaca wool, not socks for Alpacas) to you at Mid-camp!
Hugh Aggleton/Gibbs
Lake district mountain man Tom Gibbs teams up with handy MDC runner Hugh Aggleton who, judging by his power of 10 knows the area well.
The Mixed.
Joint British and joint English Fell Running Champion Helen Fines teams up with Bill Johnson. PTL (The bigger, uglier brother of the UTMB) winner Digby Harris teams up with Ultra runner Helen Skelton, whilst the Carnethy pair of Jasmin Paris and Konrad Rawlik are ideally suited to long, rough days in the hills
The Ladies.
Only 2 All-female pairs on the Elite this year, and I'm afraid that I know nothing of the pairings of Heather Dawe/Andrea Priently and Holly Williamson/Catherine Evans.
The A-Class.
Fell superstar Wendy Dodds teams up again with Sarah Rowell - I can only hope they don't pitch up next to the horrendous chat of the Sheffield Uni boys like they did last year!
I see the battle for the win being contested between NOC's Andy Llewellyn and Rich Robinson, finally running a course that befits them (they pot-hunted the C class in 2011) depending on their injuries and illness respectively, and Sheffield Uni pair The 2 Jonnys - Malley and Crickmore, who won the B and C class respectively last year.
The B-Class.
There's a lot of names to sift through, but the pairings of Simon Gardner and Jack Wood, Peter Hodkinson and Joseph Fisher and Tim and Jon Street are ones I at least recognise! There are also strong ladies teams of SPOOK's Anwen Darlington and Laura Daniel, Pennine FR's Lucy Harris and Zoe Procter and BOK's Alice Bedwell and Hanne Kinnunen.
Well I'm afraid that's all I can fit in as I need to get some food in me before hitting the town in preparation for tomorrow's XC. Best of luck to all competing in all 8 classes over the weekend, looking forward to partherships I missed making a strong showing!