Fell Relays done, this can mean only one thing: It's
OMM
time again. Three Thousand or so hardy souls/certifiable nutters (depending on whether you ask them or their work colleagues) will this weekend be heading towards Alwinton/Clennell on the edge of the Cheviot Hills in Northumberland National Park.
If you're anything like me you'll have visited the supermarket 6 times already this week in (ill-organised) preparation, rustled up your best rocket-fuel flapjack - flapjack definitely counts as a savoury item on the OMM - and looking forward to spooning your lovely partner. You'll also be trying to shift every terrible song ever written from your head in fear it becomes your weekend ear-worm. A weekend of 'Genie in a Bottle' by Christina Aguilera anyone?
The parter of choice for many teams, this prefers more of a forking than a spooning.
I've spent very little time in the Cheviots, but am expecting a mix of rough grass, heather of varying depth, tussocks, bogs and rough forest. From a brief glance at the map, rolling hills around the 400-600m mark seem the order of the day, with the mass of The Cheviot ~9 miles north of the event centre poking its head up to 815m. Wind direction may well impact route choice alongside the more normal climb/distance calculations. The forests scattering the area north of Clennell could prove decisive - no-one likes forests mapped at 1:40000, and those present at the nearby British Orienteering Championships in April know what can go on in Northumberland forests - could the prizes at the end of the Day 2 courses be decided in Kidland Forest, just north of the event centre?
Anyway, onto the rumour, conjecture, insults and pure made-up bollocks as I pick out some contenders for the big prize on the Elite course, and have a brief glance at the other classes. Needless to say this is all highly subjective so if you think I've missed anyone out, oh well.
(The 2012 results don't seem to be working so there's a bit of a hole regarding historical data)
Elite
Female/Mixed
There are 2 all-female teams this year.
Nicky Spinks
(2011 winner, Female record holder of the Bob Graham, Ramsey and Paddy Buckley rounds and the Lakeland 24h record) partners
Mary Gillie
, whilst
Heather Dawe
teams up with
Andrea Priestly
to defend their 2013 title.
In the Mixed, Carnethy's Jasmin Paris (new Tranter round female record holder) and Konrad Rawlick try for another title having won in 2011 and 2013 (and maybe 2012?). A very strong team. Tim Laney and Lizzie Wraith, Carla Denneny and David Alcock, Cat St Clair and Stuart Johnson are the only other mixed pairs on the start list.
Overall Challengers (in no particular order).
The Dark Peak Machine - Oli Johnson and Neil Northrop.
6th last year, OJ returns with Nails, not seen on an OMM since 2009. Both were part of Dark Peak's crushing British Fell Relay Championship winning team last weekend, each winning their respective legs (Oli leg 2 with Rhys FR; Neil leg 3 with Tom Saville). Both are former members of the British Orienteering Squad and have raced well on the fells this season, so navigation and terrain shouldn't prove to be an issue, and recent training/racing has gone well, the partnership getting close to the Kinder Dozen record despite carrying packs and stopping for photos, whilst Oli was 16th at the stacked Limone Skyrace a fortnight back.
Both members of the Estonian team at this year's World Orienteering Championships in Italy, last year's 3rd placed team returns. Sander lives in Swansea and both have been competing last weekend in the 'Race The Castles' World Ranking Orienteering events in Scotland, which saw world class fields ahead of next year's World Championships. Whether this pairing are tired after a pre-WOC
training camp remains to be seen, but as they showed last year they are definitely contenders and navigation again shouldn't be an issue..
The 'Is That it?' Team - Steve Birkenshaw and Adam Perry.
After covering 300 miles and 37,000ft of climb to summit every Wainwright in 6 days 13h back in June, an Elite OMM should feel like a warm up to Steve Birkenshaw. Time may be against Steve to add to his current 7 OMM/KIMM Elite titles to match Mark Seddon's 10, but the 2012 Dragon's back champion is the most experienced ultra-distance racer in the country. He's teaming up with 2-time Fellsman winner Adam Perry, who has also dipped his toe into making Lakeland fell fokelore, having a good crack at Mark Hartell's 17-year-old Lakes 24-hour peaks record, an attempt which was still 'on' until 20h in - further than many have got. Will Adam make Steve hold his hand as they cross the line? Full of endurance, the main question for this team is how well they have both recovered after their summer exploits.
The Locals - Duncan Archer and Jim Mann.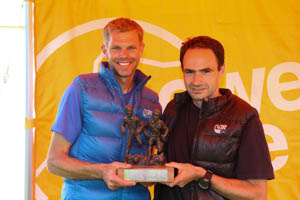 Jim tries his best 'smoulder' look. Photo: lamm.co.uk
OK, being from County Durham they're about as local as Elite contenders get. Winner in 2011,
Duncan teams up with Jim, his regular LAMM partner, the pair having won the last 3 editions of the Scottish July event. Jim set the winter Bob Graham record (18:18) last December, whilst Duncan was an excellent 4th in the rough terrain of the British Long Distance Orienteering Championships back in April.
The Carnethy Team - Andy Fallas and Jon Ascroft.
Carnethy star Andy Fallas (stop sniggering at the back!) teams up with club-mate Jon Ascroft. Impressive results for Andy in 2014 include winning the Two Breweries race ahead of a strong field, joint 3rd at the Isle of Jura Fell Race and 5th at the British Championship race at Ennerdale. Jon has been well within the top-10 at the Arrochar Alps and Pentland Skyline races.
As ever, there are a couple of pairs likely unknown to the British Fell Running and Orienteering communities. You never know if they might be contenders, so a bit of google detective work is required:
Jonas Munthe
and
Bjarke Refslund
are both Danish orienteers, the former a member of the Danish Junior squad at JWOC 2007, the later a national-team Mountain Bike Orienteer, with Silver and Gold medals in the relay at the 2010 and 2011 world championships.
You get plenty of hits for Mariusz Kozlowski and Rafal Szymanski. Whether they have any previous in this kind of thing who knows!
The Non-Starters - Jonny Crickmore and Jonny Malley.
Last year's A-class winners were due to début on the Elite. However Crickmore jumped off a wall, badly bruised his heel and is currently aqua-jogging and spinning in the gym. Alcohol may or may not have been involved. Malley can't find anyone to share a tent with his thighs so this team drop out.



Other classes.
Picking potential contenders on the other classes can be a minefield, any pairing could turn out to be secret stars. I've picked out a few interesting names, but am going nowhere near the score as anything can happen there (although I will say Quentin and Zoe Harding will smash the short score).
A-Class.
Fell Legends Wendy Dodds and Sarah Rowell take up their usual position on the A-class. Hugh Aggleton (7th on elite last year) and Hannah Jarvis, both MDC, team up. Oh and myself and Andy Llewellyn.
The TV series based on Harold Wyber
B-Class.
Harold Wyber and Josh Jenner move up from the C. Jack Wright has run well on the fells for Ambleside this season, Jack Millar joining him in a ShUOC team, whilst Andrew & Alastair Brunton ring a bell from ex-EUOC orienteering circles. There is plenty of female pairs competition, with the SPOOK pairings of Anwen Darlington/Laura Daniel and Sarah O'Neill/Hazel Tant, as well as vet fell/ultra runners Rowena Brown and Karen Nash.
C-Class
Horton and Williams
Olly Williams and Tom Horton. Another ShUOC team and the only names I picked out of the start list. British Junior O squad and Ambleside runner respectively, the firmest favourites of the weekend? They could do well on a higher class but they are Mountain Marathon virgins so C is a good starting point. Likely to provide hilarity/denseness at mid-camp, if a tent goes up in flames it'll likely be them.
D-Class
The D-class is always a tough one to win as lots of people have a go and turn out to be pretty good. Manchester orienteering brothers Tom and Matthew Fellbaum are,again, the only names that leap out during a quick scan.

That's all there's time for, I'll hopefully cobble together a review of the weekend's shenanigans some time next week!