Whilst I'm racing fairly well in short races recently, I'm fully aware that I don't do enough long stuff - even medium races are quite rare: most of my races are over well within 50minutes (often 40!), and out of 19 fell races this year only 4 have taken over an hour (Kinder Trial, Edale Skyline, Kinder Downfall, Coniston). I said at the beginning of the year that I started wanting to go longer but it's not quite happened to the level I wanted. With this in mind, and it being a Pennine champs race I decided to head up to Sedbergh in the Howgills for the Hills race. Also a counter in the British and English championships (my first champs race), at 14 miles the distance wasn't really a problem, but the 6000ft was!
As started the ascent to Arant Haw (CP1) the sun came out and I was wishing I'd put some sun cream on - but thankfully the cloud cover soon returned, with clag touching the higher summits. I started slowly as I was fully aware of burn-out on the mainly runnable (cropped crass) but unrelenting course. By the summit I'd reeled in Steve and Muir, but couldn't shake Muir as I minced a bit on the descent and he went away on the steep climb to Castley Knotts (CP2). By now I was at the back of a group and didn't want to be dropped, as the next group were quite a way behind. I managed to stay in contact but it was much harder work than I would have liked. The paths to CP3 undulate more than you think and I was having problems getting into a rhythm. We then hit the main cross-country leg, 3km with 3 substantial ridges to cross to CP4. There's some route-choice but most of us did the same thing with only a few minor deviations in line. The contour-trods here (and throughout the rest of the course to a lesser extent) were a little muddy and so really slippery, I'm very surprised I didn't stack it, the amount of slips I had. Towards the end of the leg I took a slightly different route to those around me so as to not gain too much height, but got caught in a land-slip area before ending up too high above the control.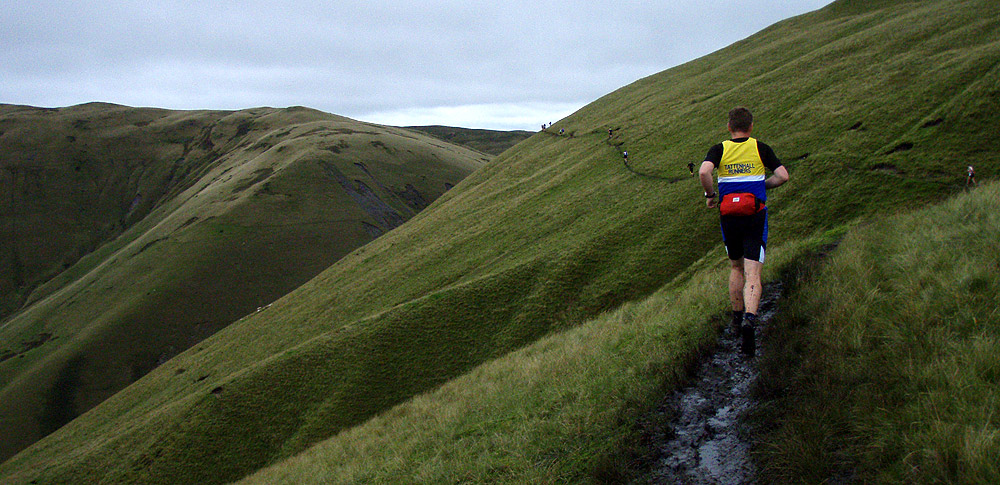 The slippy trods towards CP3 (From NFR Website). Easier than the ones to CP4, which are at an angle downhill.
Before the race I'd decided to start pushing from CP4 on the long, steady climb up to the Calf (CP5) after a pee-break I overtook a couple of guys straight away but couldn't make any ground on Muir's group up ahead. Two guys pulled away, but by the end of the climb I'd managed to get back to him - driven on by cheers of 'C'mon Jackie' for the first Lady who was just behind me. Off the Calf I knew it was basically all downhill and I managed to dig in as planned (although not to the extent as I'd like), catching people and running through them. Looking at my watch I knew that 2 of my loose targets before the race (the sub 150mins and beating the women's record at 2:28ish) weren't going to happen today, but if I kept catching people a top 70 was on the cards. Off Winder (the final summit and CP6) I knew I had to be careful in getting the right line off, but I drifted too far right. I didn't lose much time or any places but it sort of summed up my race - OK, but not quite there.
However, I managed to get into the top 70 (69th, whay!) in my first attempt at a Champs race - a placing I'm pleased with considering I felt OK, but not great.
The route with my GPS trace on it (Quickroute). There's a gradient-colour bar in the top RH corner, but basically the darker the green the faster I'm gong; the darker the red the slower I'm going (Dark green = 3.5min/km; Dark Red = 9+min/km).
The race was won by Morgan Donnelly in 2:02. I took 2:31:49 and was 4th Pennine with Adam (2:23), Dave (2:28) and Muir (2:31) ahead of me.
Next up - a few weeks rest before building up to the Relays (hopefully I'm selected), then on to winter training!